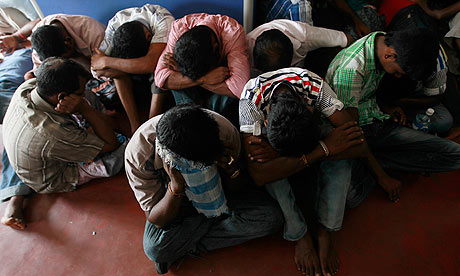 Asylum seekers from Sri Lanka at a police station in Colombo, after being arrested for attempting to sail to Australia by boat. Photograph: Dinuka Liyanawatte / Reuters/REUTERS
Does Australia have a problem with refugees? Both major parties believe it does, agreeing that offshore processing is necessary to deter asylum seekers arriving by boat. In 2007 Labor dismantled the previous Coalition government's policies, but has progressively hardened its stance over the past five years. The Coalition promises to "stop the boats" by turning them back on the high seas, where possible, and by denying boat arrivals any hope of ever gaining permanent residency.
So what are the facts about people seeking asylum in Australia? The latest data from the Department of Immigration and Citizenship for year-on-year numbers shows that applications for asylum in Australia have never been higher.
The latest quarterly figures show the first three quarters of 2012-13 are already ahead of the entire 2011-12 total, with 17,698 asylum seekers as of March 2013.
Australia divides its refugees into two groups: those that arrive by boat, defined as "irregular maritime arrivals" (IMA), and those that arrive by air (non-IMA). This data, which covers 2011-12, shows that, for the first time, boat refugees outnumber asylum seekers arriving at airports.
Australia compared with other countries
Even with recent increases in the numbers of asylum seekers, Australia takes a very small percentage of the world's refugees: just 3% in the latest figures for 2012, although that is up from 1% in 2008.
But how does that really compare? According to the UN high commission for refugees, there are 30,083 refugees living in Australia. Relative to the country's geographical size, that gives Australia one of the lowest rates in the industrialised world (although this does not take into account that large areas of the country are uninhabitable). Australia, incidentally, produced 39 refugees of its own in 2010.
If we look at the figures in relation to population, they show that for every 1,000 Australian citizens, there are 1.4 refugees.
Arrivals by air
In the past, most arrivals were by air, but now more come on a boat. The government says that in 2011-12 there were 7,036 applications for asylum by people who originally arrived by air, an increase of 11% on 2010-11. The increase was almost exclusively attributable to applications from international students, which tapered off during the second half of the financial year after the government changed the rules to make it harder for students to apply for permanent residency.
The number of people arriving by air and seeking protection has been rising since 2004-05 after falling from just over seven thousand in 2001-02.
The list of troubled countries reflects the origins of refugees around the world – and if the boat applications were included, Afghanistan would be top. Applications by citizens of India, Pakistan, Libya and Syria were significantly higher than in previous years, says the government, reflecting in part the large number of students in those caseloads.
But while there are more applications, the rate of people being approved is down on two years ago.
Arrivals by boat
So, arrivals by boat are up – and the latest figures suggest that next year there will be even more.
But where do these people come from? They tend to be from poorer and more troubled countries than the airborne arrivals.
They are also younger – and predominantly male. In 2011-12, 6,512 of the 7,379 applicants were male.
The full data is below for you to download. What can you do with it?
Data summary
Share of global asylum applications – by country, %

Click heading to sort table. Download this data

| Countries | 2007 | 2008 | 2009 | 2010 | 2011 |
| --- | --- | --- | --- | --- | --- |
| United States | 15 | 13 | 13 | 15 | 17 |
| France | 9 | 9 | 11 | 13 | 12 |
| Germany | 6 | 6 | 7 | 11 | 10 |
| Italy | 4 | 8 | 5 | 3 | 8 |
| Sweden | 11 | 6 | 6 | 9 | 7 |
| Belgium | 3 | 3 | 5 | 6 | 6 |
| United Kingdom | 8 | 8 | 8 | 6 | 6 |
| Canada | 8 | 10 | 9 | 6 | 6 |
| Switzerland | 3 | 4 | 4 | 4 | 4 |
| Turkey | 2 | 3 | 2 | 3 | 4 |
| Austria | 4 | 3 | 4 | 3 | 3 |
| Netherlands | 2 | 4 | 4 | 4 | 3 |
| Australia | 1 | 1 | 2 | 3 | 3 |
| Greece | 8 | 5 | 4 | 3 | 2 |
| Norway | 2 | 4 | 5 | 3 | 2 |
Download the data
DATA: download the full spreadsheet
SOURCES: Australia Department of Immigration & Citizenship, UNHCR
Leave a reply